Arpec Antibiotic Resistance and Prescribing in European Children
---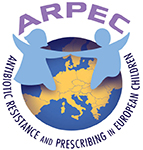 The ARPEC project (2009-2013) involved several European universities and Health Institutions and aimed to develop and implement a novel method of surveillance of antimicrobial prescription and resistance in children attending hospitals and primary care across Europe.
Penta was a partner in the project, supporting project coordination, evaluation and dissemination. ARPEC received co-funding from the European Union in the Framework of the Health Programme.
The overall aim of the project was to improve antimicrobial prescribing in hospitals and in the community by obtaining up-to-date, clinically relevant surveillance data on variations in clinical management and antimicrobial consumption and resistance rates and using this to create and implement educational initiatives for paediatricians in-training and in clinical practice across Europe.
The EURO-CANDY project, led by the European Paediatric Mycology Network (EPMyN) and sponsored by Penta, aimed to study the epidemiology of pediatric and neonatal candidemia in Europe retrospectively over a 15-year period and to compare the epidemiology between different European countries and different paediatric populations. Twenty-five centres participated, representing 14 countries.
The study used established web-based data collection methods (REDCap), with data hosted and managed by Penta. The general aim of the study was to determine the incidence of candidemia due to various Candida species and the candidemia-attributed mortality rates in the pediatric and neonatal populations in Europe over a 15-year period and their changes over time.
This project was funded by Penta.
NeoMero – European multicenter network to evaluate pharmacokinetics, safety and efficacy of Meropenem in neonatal sepsis and meningitis
---
NeoMero (2010-2014) was funded by the European Commission under the Seventh Framework Programme and coordinated by Penta. The project involved 12 partners from 8 European countries, with the main objective to compare the efficacy of meropenem to standard of care treatment of clinical or culture confirmed late-onset sepsis or meningitis. NeoMero core activities were carried out in two clinical trials designed to evaluate the pharmacokinetics, safety and efficacy of meropenem in neonates and infants younger than 3 months of age.