2020 Annual Report
---
Comunicazione ai sensi Art. 1 commi 125–129 LEGGE 06.04.22 N. 124
Letter from the president
---
This is a time in our lives, like none other.
The emergence of the COVID-19 pandemic has undoubtedly been a serious threat to all our lives, but also a driver to expand our focus and work towards shedding light on the unknown.
Throughout the pandemic, we have worked to keep our studies active by readjusting procedures to meet the changing times that forced families and children into lockdown, while ensuring they could continue to participate safely. True to our mission, we have worked with our Penta ID Network to ensure we minimized any additional strain on clinical staff and prioritized the need for health professionals across clinical sites to support all children and families during this emergency.
Despite this challenge, we have achieved some remarkable successes this year. We concluded the ODYSSEY trial, completed enrolment into two studies, eight new projects kicked-off, our PentaTr@ining moved online and we published a number of important peer-reviewed papers. Overall, Penta has continued to grow, and we are proud of what we have been able to achieve, thanks to our collaborators' untiring commitment.
While the COVID-19 pandemic continues to produce uncertainty, it is also bringing out the best in our researchers, who have taken on the challenge of COVID-19 to find solutions for our most vulnerable. This is evident from the success of our new COVID-19 research portfolio, with 65% of funding applications submitted in 2020 receiving approval. We are incredibly thankful to our entire Network for making this possible.
This year has led to us all adjusting to a new virtual world. We have not been able to maintain our face-to-face meetings throughout the pandemic, however our desire to stay connected has led to us finding new ways to work with our Network members and collaborators. We initiated a series of clinical webinars and opportunities to discuss and share information on child health matters, including COVID-19 from across the globe. These discussions have been vital to the continuation of our work and highlighted the need for child-focussed research to understand the direct and indirect impact of SARS-COV-2 on child health and the role of children in the transmission of the virus.
Our goal is to keep child health at the top of the global research agenda and ensure that we are filling the knowledge gaps and providing regional and global overviews. We are continuing to work with the WHO and other global collaborators to build capacity for preparedness around COVID-19 and future emerging infections that have the potential to harm maternal and child health. We have expanded our network by establishing new partnerships with organizations and researchers with different backgrounds and skills.
This report on our 2020 activities is an appreciation for all the work carried out in Penta and the Penta ID Network, which works towards our vision to improve the prevention, diagnosis and treatment of infection in children through excellent clinical science. Our work has never been more important.
We are grateful to the Penta ID Network members, the Foundation staff and all partners for their continued support. We are extremely proud of the children, adolescents and their families who have continued to participate in our research. It is our hope that we will contribute to better understanding and managing this pandemic, just as we have been doing for HIV and other paediatric infections.
Carlo Giaquinto
Download or flip-through the report to read more about Penta in 2020
What happened in 2020?
---
Our passion for collaborative research and knowledge sharing never ends. We will continue to grow our Network of researchers and build new partnerships to expand our research and training
Our research activities
---
In 29 years of activities, we have contributed to the development of new treatment strategies for children living with HIV. Results from Penta studies have been used by companies for regulatory purposes and our efforts have decreased the time for drugs to be accessible to children in Europe, Africa and Asia.
We have designed and conducted pharmacovigilance studies that have contributed to identifying any potential safety signal of novel antiretrovirals after they have been licenced for use.
These efforts have contributed to making HIV in children a treatable condition.
Penta is an independent organisation funded by public and private contributions from international organisations.
The chart shows the percentage distribution of the use of resources by type of activity for 2020. As shown, most of the expenses were incurred in relation to the implementation of clinical trials and cohort studies, highlighting the numerous studies the foundation is running.
The chart shows the percentage distribution of revenues by research area in 2020. HIV continues to be the foundation's key research area. The significant increase in network building compared to previous years highlights the growing importance of the field.
The chart shows the percentage distribution of revenues by funder in 2020. The highest proportion corresponds to private sources, which shows the numerous collaborations the foundation has in place. The European Commission continues to be a key funder..
Download Penta Foundation's 2020 Balance Sheet
COVID-19 through the eyes of Penta researchers
---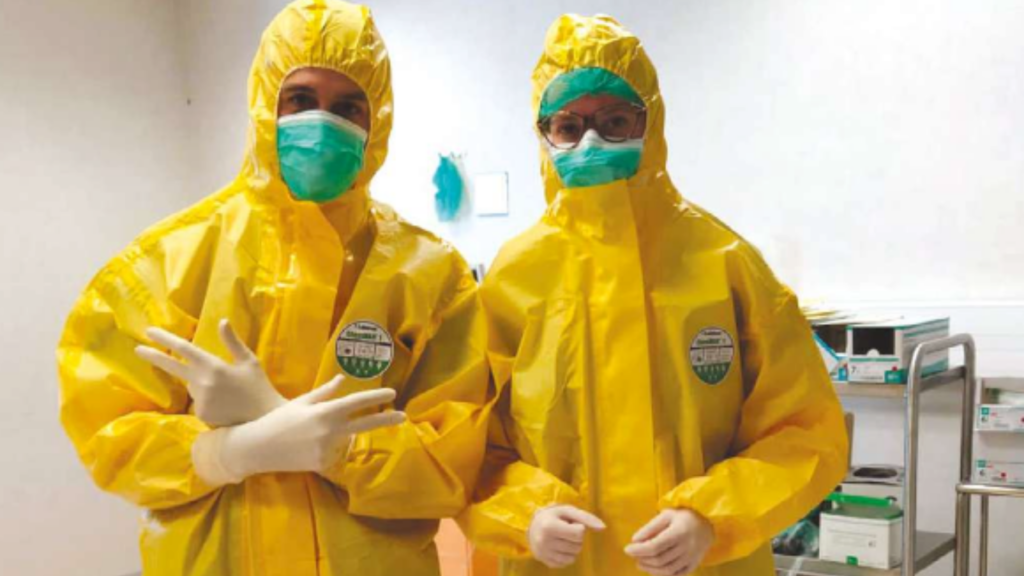 The COVID-19 pandemic has represented a unique professional and personal challenge throughout the year. Many unimaginable things happened during this frantic year, from the school closures to the confinement, and we had to adapt and think creatively. The pandemic took me back to the intensive care unit for some weeks, taking care of adults, enduring endless shifts with limited resources. Back home, we prepared and implemented research projects, again with limited resources, for children with COVID-19.
During the first months of the pandemic, we did not need to sleep much – we had so much energy and adrenalin. We drove from work to home and back through solitary streets, listening to the sad news with wet eyes. The forecast of hundreds of thousands of deaths sadly fulfilled, including beloved people. Time went by, and some things improved, but the hope of a quick recovery faded. Waves followed each other.
Read more of Alfredo Tagarro's story
The first case of COVID-19 in South Africa was diagnosed in a traveller from Europe to South Africa on the 5th of March 2020. The initial imported infections fuelled the first wave of the pandemic 3 months later, while further mutations of the circulating wild- type virus fuelled the more severe second wave 7 months thereafter. The South African government responded by implementing, several mitigating strategies including lockdowns, social distancing, use of face masks in public and school closures to slow and control community transmission. These control measures had variable success in controlling transmission but also exposed the social disparities in South Africa, with the most vulnerable members of society being heavily affected by the impact on the economy and disruptions to healthcare, education and employment opportunities.
In KwaZulu-Natal, where almost half the population is below the age of 19 years, acute COVID-19 infection in children and adolescents have thankfully been largely asymptomatic or mildly symptomatic.
Read more of Moherndran Archary's story here
The global health crisis of the SARS-CoV-2 pandemic is changing the world. In the Veneto Region in Italy, an exponential spread of patients affected by COVID-19 has been observed since 21st February 2000, the day of the first COVID-19 positive adult admitted to the University Hospital of Padua.
This impetuous pandemic infection put a tremendous amount of stress on many hospitals interfering with ordinary medical practice. Moreover, all the research activities were slowed down considerably with a sudden change in priorities regarding time and funding.
Since February 2020, we in the Paediatric Infectious Diseases team have been immediately involved in implementing infection prevention and control (IPC) strategies, including the Paediatric Department's reorganization to contain the in-hospital viral spread.
Read more of Daniele Donà's story here
COVID-19 through the eyes of a young person living with HIV
---
Yes, I'm positive! Not for Coronavirus but for HIV. Since I was born, 24 years ago. HIV and COVID-19 are not so different. Like COVID-19, HIV forces you to change your way of living. It is easy to experience anxiety or depression because you have to deal with an invisible enemy that obliges you to stay on your own. You can't run away from your deepest thoughts.
When the lockdown was announced I did not feel so scared. I have been social distancing since I was born. HIV infection often leads to feelings of being alone, and distancing from others. We are now required to wear a face mask because of the current pandemic. However, I have worn a virtual mask since I was a child. It protects me because people have little knowledge of HIV, they seem unaware that my infection does not define me – there is a lot more to me than this! I wear my mask, so I feel more self-confident. I wear it to hide my emotions.
COVID-19 is teaching us the importance of taking care of our own and other people's health. Washing hands and wearing a mask, these actions are not so different from using a condom during sexual intercourse, in order to protect yourself and others. The COVID-19 pandemic is also making us all aware of the importance of the healthcare system. I have always considered medical doctors, nurses, educators, psychologists, volunteers that work in hospital settings as heroes. They support me, taking care of my physical and mental health.
From a young man living with HIV
Next year we will bring children to the centre of COVID-19 research. So far, international research into COVID-19 has predominately focused on adults, due to the less severe presentation in infected children. However, because most children in the foreseeable future will be unable to get vaccinated (especially in low and middle-income countries), transmission will continue to occur with the risk of selecting new variants which could facilitate the circulation of the virus in the overall population.
We now know that some paediatric groups (such as those living with HIV, other immunosuppressive conditions, including cancer patients, or children with chronic heart or lung diseases, such as cystic fibrosis or TB) appear to be at higher risk of disease progression, but a lot is still unknown about the factors influencing severity of the disease.
We strongly believe that the differences between children and adults may reveal important clues regarding the pathogenic mechanisms of COVID-19 and the spreading of the infection.
We will bring our experience and our Network in the collection of real-time safety data during the roll-out of new vaccines.
There are exciting times ahead.